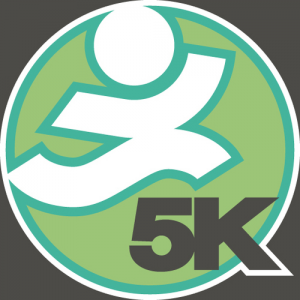 Signing up for a 5K is great motivational tool to start an exercise program, and having a goal in mind helps to keep you focused. A 5K is only 3.1 miles so it's a great start for new runners and the perfect distance for first-time racers, while also still being challenging and fun for those 5K veterans.
If you are new to 5K's after you've made the first step and signed up, knowing where to start from there can be a bit intimidating. We don't want the unpreparedness or intimidation to throw you off your first 5K motivational wagon, so we've found a few tips to help keep you on track and to the finish line in record time, along with a few tips for those veterans in helping to improve their times.
TRAINING TIPS
If you are new to 5k's your first piece of advice is to be sure you ease into it. Many people get so excited about the race, which is great, yet they start off too fast and their bodies wind up being overloaded and they end up feeling miserable, never wanting to partake in another race again.
Take it slow and ease into your running program gradually. CoolRunning.com shares a great two month Couch to 5K Running Plan for beginners to help them ease into it. It's more of a walking and jogging regimen than a running to help you stay at a steady pace. They also suggest you should "space out these three days throughout the week to give yourself a chance to rest and recover between efforts."
If this is your first 5K don't worry so much about speed right now, you need to first make sure you bones are strong and body is fitter to make it through the 3.1 miles, then you can start work on gradually increasing your time and distance.
For those who have ran 5K's before, or once you've mastered the running plan and are ready to focus more on speed, you'll want to start adding speedwork to your training regimen. How to Run a Faster 5K from Shape Magazine "recommends adding 80-meter sprints into your training schedule…remember sprinting can be hard on the body, so make sure to start off with shorter sprints and build up to the full 80 meters, especially if you're new to speedwork."
Shape Magazine also mentioned "incorporating strength training moves that target your shins, calves, quads, glutes, and core" to help improve your leg muscle strength and therefor increase your speed. As we mentioned in yesterday's post Using Plyometric Exercises to Improve Your Running Speed, incorporating these quick, explosive moves into your strength training workouts will help you develop muscle power and develop speed.
Running uphill will also help to develop speed due to the fact running hills require strength and endurance. Shape Magazine suggested adding shorter steep hills, which is about a 6-10% incline on the treadmill, during your training regimen. "Sprint up for 10 seconds, then walk downhill backwards to avoid pressure on the knees. Repeat eventually building up to eight 10-second sprints."
Whether this is your first or tenth 5K you'll want to always be sure you are familiar with the course. If the route is open and available practice running on it to familiarize yourself with the all the hills and curves so you aren't thrown off come race day. "Knowing the course in advance will give you confidence and an added advantage over runners who are running on it for the first time."
RACE DAY TIPS
Eating the proper foods the morning of your race is going to be crucial in helping you power through your run. Make sure it's no more than 200 calories eaten one to two hours before your run. Check out a previous post of ours Race Day Nutrition Tips for Runners for more tips on what to eat come race day. Also be sure to "drink 14 to 20 ounces of fluid two to three hours before you run" to make sure you stay hydrated throughout your race.
While you may think it's only 3.1 miles, you still need to make sure you warm up with some brisk walking and stretching to prevent any risk of injuries. Try these 5 Pre Run Poses for Better Running to help warm up your muscles before the race begins!
Many beginners think they should hold back for the finish line and start out slow, but according to Shape Magazine "recent research shows that approaching the first part of the race at a slightly faster than normal pace will actually result in a shorter overall time."
This is where knowing the course really comes to into effect; once you've finished the first ½ to full mile you can begin to slow down your pace and catch your breath. Towards the last mile you'll want to start to pick up the pace again. It's said that passing runners here gives you an added boost of confidence, helping to give you motivation to finish strong. For the last fourth of a mile, sprint toward the finish line ending hard.
For curves be sure to move over as soon as possible to hug the curves and helping to shorten the distance. For uphill you'll want to be sure you keep proper form: head and chest upright, shoulders and hands relaxed (no clenched fists), take shorter strides keeping feet close to the ground while pushing off and up, not into the hill. "Tackle the first two-thirds of the hill at a slower, relaxed pace, and then accelerate toward the end."
Once you reach the other side and begin to go downhill you can use the gravity and allow your body to take longer strides. Relax your leg muscles and lean forward into the hill, landing softly with each step.
Hopefully these tips will help you beginners make it through your first 5K and those veterans improve their 5K speeds!
Have you ever participated in a 5K?!
Anyone have a race day coming up soon?
What tips or tricks do you use to power through your races?