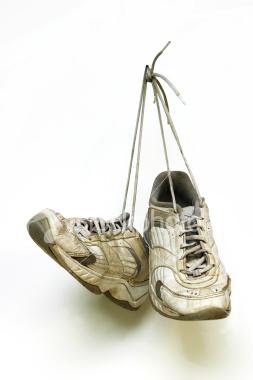 When it comes to working out many of us rely on our sneakers to help power us through our workouts, whether it be running on the treadmill or completing a strength training circuit at home. Although we desperately need our sneakers for our workouts, buying five pairs a year can become quite expensive, and often not possible.
This is why when I came across an article online titled 6 Tricks to Extend the Life of Your Sneakers from Shape Magazine I knew this was something our readers here at NordicTrackCoupons.com could certainly benefit from. So here are a few of the six tricks to help extend your sneaker life:
Treat Yourself to Two Pairs
Ask any girl out there and she has more than one pair of heels, so why not have more than one pair of sneakers. By buying two at once and rotating between the two will double their duration. This also works for those who do lots of crossing training as you'll likely want to use different types of sneakers for your different workouts, such as trail runners for your outdoor runs and cross trainers for weight training workouts. Check out Choosing the Right Running Shoes for Your Runs and 3 Types of Footwear for Running on Treadmills to help you decipher which shoes are going to be best for your specific runs.
Author and marathon runner Jason Fitzgerald stated, "Shoes last longer when you rotate two or three pairs for your workouts. Just like people, the foam in shoes needs recovery from workout to workout and giving them a few days of rest allows that foam to return to its normal size and function."
Stuff Your Wet Shoes with Newspaper
If you ever run outdoors you are bound to get your shoes wet from time to time. Damp shoes are not only annoying the next time you slip on those soggy insoles, but they can also be a breeding ground for odor-causing bacteria. Many people will toss their shoes in the dryer or use a hair dryer to try and solve this problem not knowing heat can damage your sneakers. So to avoid this problem try drying them out by stuffing your shoes with newspaper as soon as you arrive home. Fitzgerald recommends "replacing the newspaper every three to four hours as it absorbs more water."
Become a 'Shoe Surgeon'
Too often people see their seams starting to wear on their running shoes and toss them! Before you throw out a perfectly good pair of running shoes which will result in having to spend up to $90 for a new pair, invest in some "shoe goo" which you can get for under $4. You can goo up your soles, side panels, or even your shoelace eyelets.
Avid San Diego runner Chris Grow stated, "I've found it doubles as a pre-emptive re-enforcement on the seam areas of my shoe where I get the most wear; [it] can double the usable life of any pair of sneakers."
Be Exclusive
Even if your running shoes are cute enough to show off during your post-workout errands, try to refrain and instead slip into another pair before stepping out to run your errands. The article Increase the Life of Your Running Shoes to Save Dough puts it simply stating, "the more you wear them, the faster they'll wear out." Plain and simple they are running shoes intended for running, not 'running' errands!
Undo the Laces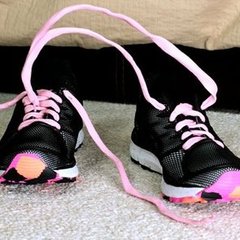 "Take the time to untie" your sneakers after your workout to help preserve their life. If you slip in or out of yours shoes without first untying your laces you will indeed wear them out much faster. This will also cause unnecessary stretching or bending of your shoes out of their shape. It really only takes a few seconds to untie and remove them properly, so save yourself the extra dough that it will cost to replace your shoes and untie them properly after each use!
Use these tips to help you extend the life your shoes and save you money yearly!
Have any other tips or tricks that help extend the life of your workout sneakers?
How many sneakers do you end up having to buy a year due to mistakes such as these?