As you may suspect, we are big fans of cardio exercise machines here, and know that is why many of you come to us to help you not only purchase your cardio machines, but to learn about ways to better utilize your machines.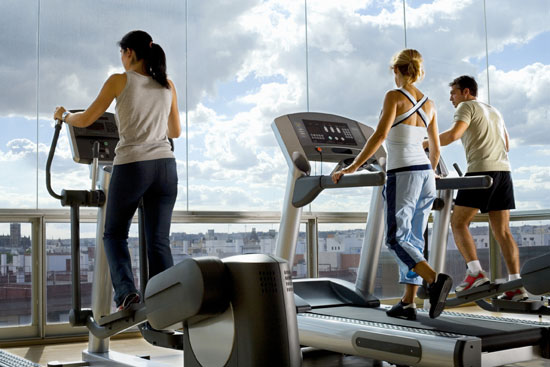 An article from SparkPeople.com titled Busting the Top 4 Cardio Machine Myths explains the four most common myths many believe when it comes to cardio machines, and how some of them may actually be derailing your results.
We thought it'd be a good idea to share with our readers the myths, and ways to make sure you don't these myths get in the way of your success.
Myth #1: The Fat-Burning Program Helps You Burn More Fat and Lose Weight
We've discussed this one before in our post Is the Fat-Burning Zone a Myth? where we discussed the misconception of this myth. While the built-in fat-burning programs are a great feature, and are true in saying you burn a higher percentage of fat as fuel when at this lower percentage of your maximum heart rate, you are also burning fewer calories overall in the process.
While you may burn 50% of calories from fat at those lower intensity "fat-burning" programs, at the higher intensities it may be only 35%. Yet this is where it gets tricky because yes the percentage is higher, you are actually burning way more total calories with higher intensity workouts, and therefore more fat calories overall.
Instead, add intervals to your workouts, either the built-in programs or create your own, you can also find loads of interval workouts on line if you just Google them! Intervals are going to give you the most "band for your calorie-burning buck" when it comes to cardio machine workouts. They work especially well if you are pressed for time, as they can burn a good amount of calories in a shorter period of time.
SparkPeople suggests, "To set up your own calorie-burning interval workout, simply increase your intensity to a hard pace for 30 seconds followed by 2 minutes at an easy pace; repeat for up to 30 minutes. Once you've mastered that, try 1 minute of a hard intensity, followed by 2 minutes at an easy pace."
Myth #2: Believing the Calories Burned Display on the Machine
You've just powered through an intense cardio workout, logging minutes away on the cardio machine to have that accomplished feeling of seeing that big number on the calories-burned screen, now here is the unfortunate news…that number is just an estimate, even when you do specifically enter your gender, age and weight it can be dramatically off.
Unfortunately, not only is the number wrong it is most likely higher than the actual amount burned. According to the SparkPeople article, "the majority of cardio machines manufacturers test their equipment on big, muscular guys and not your everyday Joe. Because of this, the estimated calorie burn that is programmed into the machine is based on a large man who burns tons of calories just breathing."
The problem that arises with this is that many see the larger number thinking they can splurge a little for dinner that night, being that they had such a killer, high-calorie burn workout, when in reality that is not the case. Instead they are sabotaging their results by not burning enough calories to cover your splurge that night. "So, literally, tread lightly."
Myth #3: Running or Walking on the Treadmill is as Good as Running Outside
Personally, we love the treadmills, yet we know along with having their advantages they may also have a few disadvantages as this article Treadmills:13 Advantages and Disadvantages shows. Some advantages include the fact they allow you to run at a variety of different inclines and paces, for this they are perfect for those intervals we mentioned earlier. Treadmills also allow you to get your run in while being able to avoid any extreme hot or cold weather. Not only the weather, but the high pollution problem causing you to inhale carcinogenic particles when running outdoors as this article Work Out Indoors states is another good example of why treadmills have advantages.
One of the disadvantages to treadmills comes if you are preparing to run in a race or walking event, which are great ways to motivate you to run. If you are trying to train for an upcoming event, running on the treadmill does not possess the same challenge as you may face outdoors. The treadbelt actually slightly helps pull your fee back, which in turns shortens your strides and causes you not to have to put forth as much energy.
Therefore if you are training for a big race event, try doing a few of your runs outdoors to get a good feel for your true running stride and speed. Also adding incline to your treadmill runs is going to "help offset momentum of the treadmill belt" allowing you to get a better training session.
Myth #4: You Should Change Your Workout Intensity Based on the Heart Rate Display
While the built-in heart rate monitors that sense your pulse (heart rate) via the handlebars or console sure are handy tools, your pulse in your palms is actually not as strong or accurate as when it is measured closer to your chest. Another disadvantage to these is the fact you have to hold on for a length of time to get a reading, not a great idea when you are running or walking fast on an exercise machine.
Instead of relying on these readings, try investing in a heart rate monitor with a chest strap for a more accurate reading. As we've mentioned before in a previous post Should I Use a Heart Rate Monitor while heart rate monitors are useful to most people in helping measure their exercise intensity, others use the RPE or Talk Test as free alternatives to measuring their exercise intensity and learning to listen to their bodies when it comes to how hard they can go.
Don't let these myths discourage or get in the way of your being able to reach your optimal results from your cardio machine workouts!
Do you always believe the calories-burned readout?
How do you gauge your heart rate during your cardio workouts?